You wanna know who would spend so much time creating a fansite devoted to Kelly Ripa? Well anyone with a lick of sense would!!! But since not everyone is as cool as the Pipaheads that we are, I'll tell you a few things about her #1 Fan.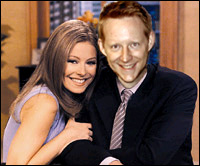 dream job: personal assistant for kelly ripa
pet peeve: pretentious fricks who say "I don't watch tv."
favorite color: blue (to match my blue eyes); red (to match my bloodshot eyes)
scents: patchouli, bounce outdoor fresh scent
flowers: none (allergies)
board game: trivial pursuit, the 80's edition
computer games: donkey kong, you don't know jack
sports: volleyball, tennis (watching only)
sports team: husker volleyball women
tv shows: the daily show, sex and the city, my so-called life, live with regis and kelly, judging amy, law and order s.v.u., wheel of fortune, desperate housewives
movies: about a boy, all about eve, muriel's wedding, kalifornia, clueless, he said she said, go
actor: kent mccord
actresses: juliette lewis, kelly ripa
types of music: madonna, 80's
singers: madonna, kelly clarkson
band: abba, the new radicals
soundtracks: hedwig and the angry inch, evita, chicago
magazines: entertainment weekly, runner's world
book: a prayer for owen meany
breakfast food: banana/blueberry pancakes
dinners: cheese pizza with garlic, taco inn nachos with no meat
vegetable: broccoli
season: mrs. dash
snack food: open harvest a-maizing popped corn
candy bars: milky way
dessert: beacon hills chocolate cake
ice cream: nutty waffle cone
alcoholic drinks: long island iced tea, fosters (that's australian for beer)
non-alcoholic drinks: good earth green tea, diet pepsi with a squirt of dr. pepper
Do your parents love you?


same shirt for school pictures two years in a row. is it too late to notify child welfare?